A Welcome Return to Zambia
24/07/2019
Global Dental Ambassadors Return to Zambia
Global Child Dental Fund-Senior Dental Leaders alumni, Dr. Nalumino Sayela (SDL-7) and Dr. David Okuji (SDL-10), collaborated on a second academic exchange program between the Global Dental Ambassadors, the Copperbelt University School of Medicine, and the Lusaka Dental Training School.
The Global Dental Ambassadors team returned to Zambia on 15th-19th July 2019. In this second trip, the team added a visit to the Copperbelt University School of Medicine located in Ndola, the only medical school that trains Dental Surgeons for the entire country of Zambia, and returned to the Lusaka Dental Training School.
Engaging in an academic collaboration, GDA team members lectured on pediatric dentistry, interceptive orthodontics, oral mucosal diseases and oral cancer, periodontics, and research methodology topics to more than fifty dental students in Ndola. In addition, joining by these students and faculty, the group visited a nearby orphanage, provided oral health instructions and screening, which identified the needed children for necessary treatments at the school.
"The people in Zambia are so welcoming and friendly! All of the students I talked to were so professional. They put their hearts and souls into improving healthcare in Zambia," said Dr. Eric Jewell of his first GDA trip.
"Our Zambian hosts were full of joy.  On this first trip, I felt privileged to help provide oral screenings at a local orphanage with these future dentists, making a difference in their community to improve oral health of their people. This entire experience was amazing and eye opening," added Teresa Orosco, a Certified Dental Assistant from Tucson, Arizona.
Copperbelt University School of Medicine, which will graduate 20 new dental surgeons in November 2019, has a new building infrastructure which was recently commissioned by the Minister of Higher Education of Zambia in July 2018. "The facilities are spacious. Their use of natural light is exemplary. The building facilities compare very favorably with those of other established dental schools I visited in Nigeria, Ghana and Kenya," commented Dr. Jos Hille a GDA team member from South Africa.
However, during the team's visit, they observed the challenges this new school faces such as x-ray machine malfunctioning, and funding shortages to procure supplies needed for training. "Hopefully, we can approach organization such as the International College of Dentists for Global Visionary Fund to alleviate some of these shortcomings," added Dr. Oariona Lowe, a returning GDA member.
The school has the vision of training a sufficient number of General Physicians and Dentists to meet the World Health Organization (WHO) recommendation of one doctor per 5,000 population, and one specialist per 10,000 population. Through this, they hope to raise the health indices of Zambia to the level achieved in developed countries.
"The relationships the team formed with the local staff do not stop when we depart. With the advanced technology, we can continue to communicate through WhatsApp or videoconferencing, to consult on difficult cases even if we are not physically present," commented Dr. Willie Chao, the GDA team leader of the Zambia academic exchange.
The GDA team also returned to the Lusaka Dental Training School and collaborated with Dr. Nalumino Sayela, Head of School. The Lusaka Dental Training School trains Dental Therapists, mid-level dental providers to help bridge the gap in access to care, as well as training Dental Lab Technicians and Dental Assistants. The school is in need of volunteers who can train local Zambians to repair dental equipment.
GDA volunteers self-subsidize the costs for travel, lodging, excursions, meals, and incidentals to participate on the collaborations around the world. "As a grass-roots, volunteer-led and driven group of dental professionals, participants share the mission in academic and cultural exchanges with oral health professionals around the globe," explained Dr. David Okuji, founder of GDA.
GDA plans future trips to Jamaica, Cambodia, China, and Nepal in 2020.
(GDA, Link: https://g-d-a.weebly.com/our-trips.html)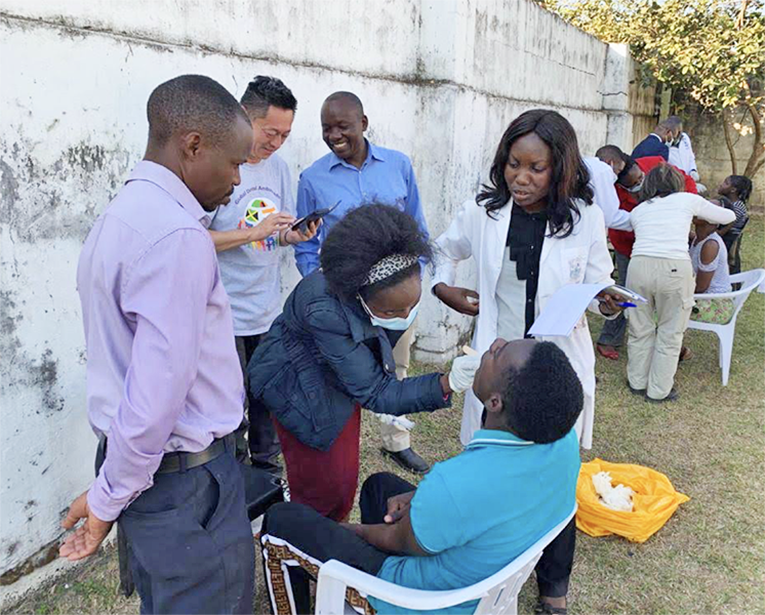 Dr. Willie Chao, Dr. Oariona Lowe (back to camera in background), and the students at Copperbelt University Medical School conduct an oral screening outreach program in Ndola, Zambia