Smiles & Hopes Zambia
22/06/2014
An Oral Health Capacity Programme
In March 2014 we co-funded with the Borrow Foundation a three –year oral health capacity building project in Zambia. The project is based in Ndola, the second city in Zambia, and our partner there is a local NGO, the Isubilo Community Resource Centre. The aim of the project is to build a locally own and financially sustainable programme which will help build oral health provision in rural parts of the country.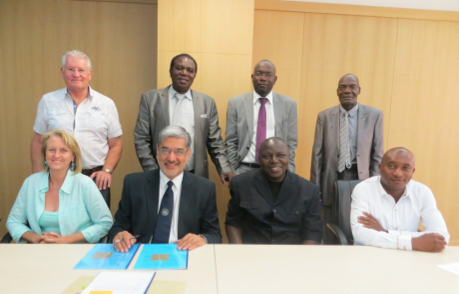 Pictured Right: Launching of the project in Lusaka by Raman Bedi, the Dental School in Lusaka, Ministry of Health representative (Dr Itone Muteba), Isubilo Community Resource Centre representatives (Dr and Mrs Patching).
Aims and Objectives
The aims of this project are threefold:
To provide on-going dental preventative care, to include pain relief, dietary advice, oral hygiene instruction, provision of toothpaste and toothbrush if needed, fissure sealants, simple restorative care and twice yearly application of fluoride varnish to 20 rural and semi urban schools in the Ndola region of Zambia.
To build capacity among the final year dental therapist students in special care dentistry and the provision of community based dentistry to the most disadvantaged children.
To demonstrate the value of the three year programme to the Zambian Ministry of Health for their on-going financial support.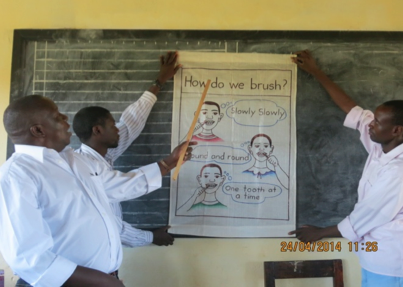 Progress Achieved
The project was launched March 2014 in Lusaka by Raman Bedi (GCDFund),  Itone Muteba (Chief Dental Officer), Sayela Nalumino (Dean of the national dental therapy training centre) and representatives from the Zambian  charity,  Isubilo Community Resource Centre.
The project team appointment  Elastus Chonde as Clinical Director and Enock Haabeka Mras the Project Administrator;
The Clinical Director alongside the Project Administrator undertook work in a community school based in Mapalo.  This is a shanty compound and oral hygiene instructions were given and toothbrush and tooth pastes distributed.
We have visited 5 government run schools in the urban area of Ndola and arranged with the school Administrators to undertake our work. In 2014 the total number of pupils likely to be seen are 4,095;
We have visited 10 community schools with an average pupil population of 450 and arrangements are in place for us, in 2015, to operate also in these schools.
We have visited 7 government run schools located in the peri-urban areas of Ndola, averaging a pupil population of 700, and again dental care will be given to these children starting in 2015.
We have made arrangements with a lodge house in Ndola when the students attend for their outreach experience.