Saving children's teeth in Myanmar
01/06/2018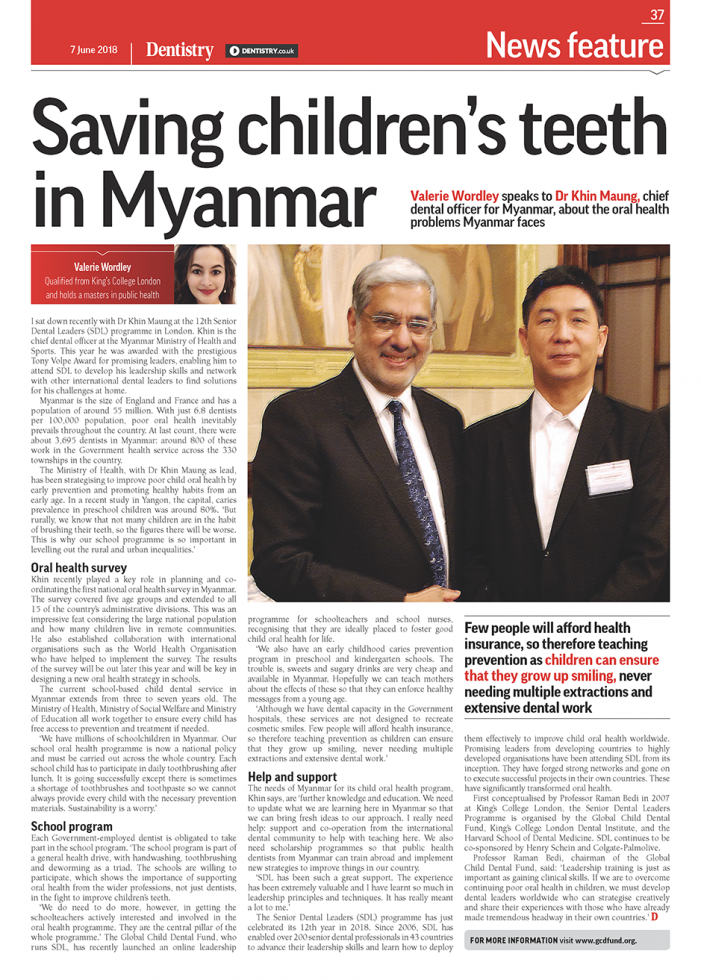 In a recent article in Dentistry magazine, Valerie Wordley, GCDFund consultant, spoke to Dr Khin Maung, chief dental officer for Myanmar, about the oral health problems Myanmar faces.
I sat down with Dr Khin Maung at the 12th Senior Dental Leaders (SDL) programme in London. Khin is the chief dental officer at the Myanmar Ministry of Health and Sports. This year he was awarded the prestigious Tony Volpe Award for promising leaders, enabling him to attend SDL to develop his leadership skills and networkwith other international dental leaders to find solutions for his challenges at home.
Myanmar is the size of England and France and has a population of around 55 million. With just 6.8 dentists per 100,000 population, poor oral health inevitably prevails throughout the country. At last count, there were about 3,695 dentists in Myanmar: around 800 of these work in the Government health service across the 330 townships in the country.
The Ministry of Health, with Dr Khin Maung as lead, has been 
strategising to improve poor child oral health by early prevention and promoting healthy habits from an early age. In a recent study in Yangon, the capital, caries prevalence in preschool children was around 80%. 'But rurally, we know that not many children are in the habit of brushing their teeth, so the figures there will be worse. This is why our school programme is so important in levelling out the rural and urban inequalities.'
Oral health survey
Khin recently played a key role in planning and coordinating the first national oral health survey in Myanmar. The survey covered five age groups and extended to all 15 of the country's administrative divisions. This was an impressive feat considering the large national population and how many children live in remote communities. He also established collaboration with international organisations such as the World Health Organisation who have helped to implement the survey. The results of the survey will be out later this year and will be key in designing a new oral health strategy in schools.
The current school-based child dental service in Myanmar extends from three to seven years old. The Ministry of Health, Ministry of Social Welfare and Ministry of Education all work together to ensure every child has free access to prevention and treatment if needed.
'We have millions of schoolchildren in Myanmar. Our school oral health programme is now a national policy and must be carried out across the whole country. Each school child has to participate in daily toothbrushing afterlunch. It is going successfully except there is sometimes a shortage of toothbrushes and toothpaste so we cannot always provide every child with the necessary prevention materials. Sustainability is a worry.'
School programme
Each Government-employed dentist is obligated to take part in the school program. 'The school program is part of a general health drive, with handwashing, toothbrushing and deworming as a triad. The schools are willing to participate, which shows the importance of supporting oral health from the wider professions, not just dentists, in the fight to improve children's teeth.
'We do need to do more, however, in getting the schoolteachers actively interested and involved in the oral health programme. They are the central pillar of the whole programme.' The Global Child Dental Fund, who runs SDL, has recently launched an online leadership programme for schoolteachers and school nurses, recognising that they are ideally placed to foster good child oral health for life.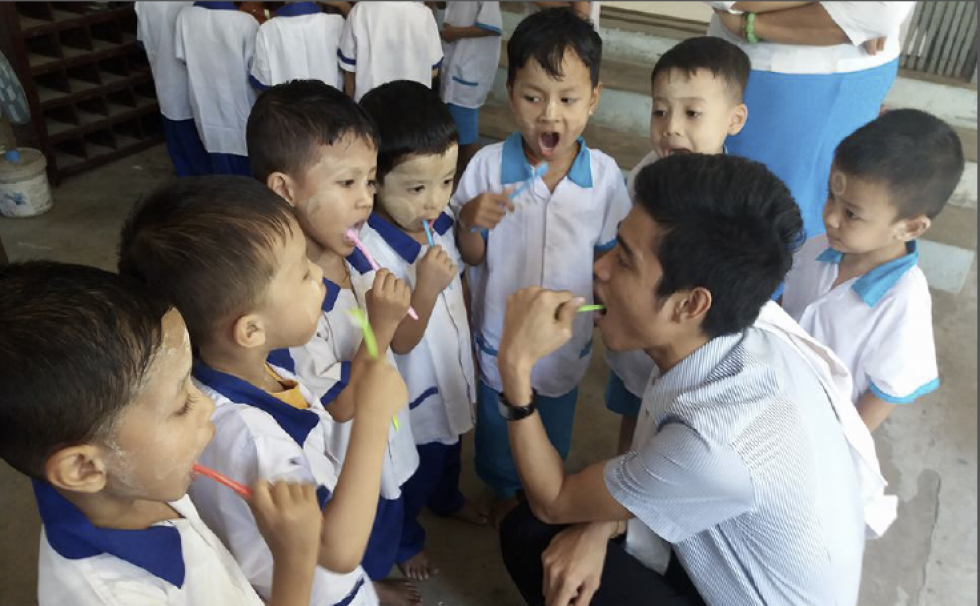 'We also have an early childhood caries prevention programme in preschool and kindergarten schools. The trouble is, sweets and sugary drinks are very cheap and available in Myanmar. Hopefully we can teach mothers about the effects of these so that they can enforce healthy messages from a young age.
'Although we have dental capacity in the Government hospitals, these services are not designed to recreate cosmetic smiles. Few people will afford health insurance, so therefore teaching prevention as children can ensure that they grow up smiling, never needing multiple extractions and extensive dental work.'
Help and support
The needs of Myanmar for its child oral health program, Khin says, are 'further knowledge and education. We need to update what we are learning here in Myanmar so that we can bring fresh ideas to our approach. I really need help: support and co-operation from the international dental community to help with teaching here. We also need scholarship programmes so that public health dentists from Myanmar can train abroad and implement new strategies to improve things in our country.
'SDL has been such a great support. The experience has been extremely valuable and I have learnt so much in leadership principles and techniques. It has really meant a lot to me.'
The Senior Dental Leaders (SDL) programme has just celebrated its 12th year in 2018. Since 2006, SDL has enabled over 200 senior dental professionals in 43 countries to advance their leadership skills and learn how to deploy them effectively to improve child oral health worldwide. Promising leaders from developing countries to highly developed organisations have been attending SDL from its inception. They have forged strong networks and gone on to execute successful projects in their own countries. These have significantly transformed oral health.
First conceptualised by Professor Raman Bedi in 2007 at King's College London, the Senior Dental Leaders Programme is organised by the Global Child Dental Fund, King's College London Dental Institute, and the Harvard School of Dental Medicine. SDL continues to be co-sponsored by Henry Schein and Colgate-Palmolive.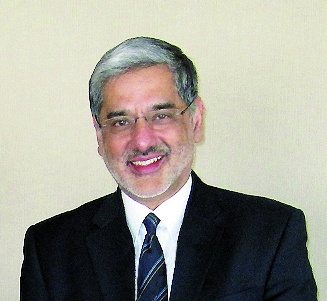 Professor Raman Bedi, chairman of the Global Child Dental Fund, said: 'Leadership training is just as important as gaining clinical skills. If we are to overcome continuing poor oral health in children, we must develop dental leaders worldwide who can strategise creatively and share their experiences with those who have already made tremendous headway in their own countries.'
Please support our work with the children of Myanmar.  Thank you.