Richard Law Award 2018 Winners Announced
15/01/2019
In honour of the late Richard Law, an accountant who tragically died from oral cancer, the Global Child Dental Fund offers awards of Rs 50,000 (in total) to postgraduate dental students in India willing to submit a research proposal and take up the Advanced Dental Leadership Training programme.
In 2018 three awards were considered for the successful applicants:
First prize: Rs 25000, Second prize: Rs 15000 and Third prize Rs 10000.
The 2018 award winners have been announced – congratulations to all!
First prize: Sanjana Sanjay Ghadge, Terna Dental College, Navi Mumbai
Research proposal: Comparative evaluation of retention, marginal adaptation and marginal discolouration of two different pit and fissure sealants: an in vivo study
Second prize:  Chitra Ramesh Iyer, YMT Dental College, Navi Mumbai
Research proposal: Assessment of the perception of general dental practitioners (GDPs) towards peadiatric dental patients in urban settings– An observational study
Joint third prize:
J. John Shibin, Indira Gandhi Institute of Dental Sciences, SBV, Pudhucherry
Research proposal: Evaluation of dental health coaching intervention programme to improve oral health status and treatment needs for pregnant women - a randomised controlled trial
Nivedita Satish Pande, YMT Dental College, Navi Mumbai, Research proposal: Association of caries status, with caries risk using "craft" and "reduced cariogram" in three to six  year-old children: a cross-sectional study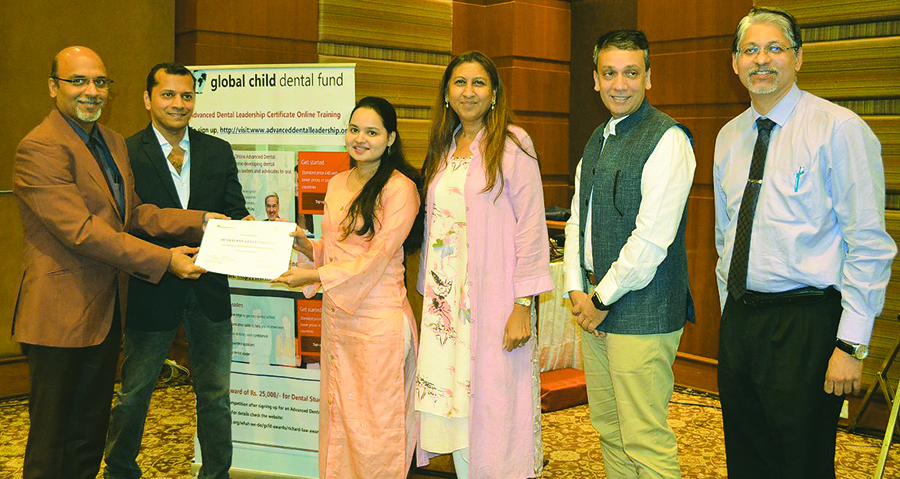 Sanjana Sanjay Ghadge, Chitra Ramesh Iyer, J. John Shibin and Nivedita Satish Pande