New Zambia Partnership
11/04/2014
We recently forged an exciting new partnership to improve dental health in Zambia. A Memorandum of Understanding has been signed with the Isubilo Community Resource, the Zambian Dental Training School and the Zambian Ministry of Health
Isubilo is an NGO with 14 years experience in the NDOLA district with people suffering with HIV/AIDS, homebased care, adherence and orphans vulnerable children.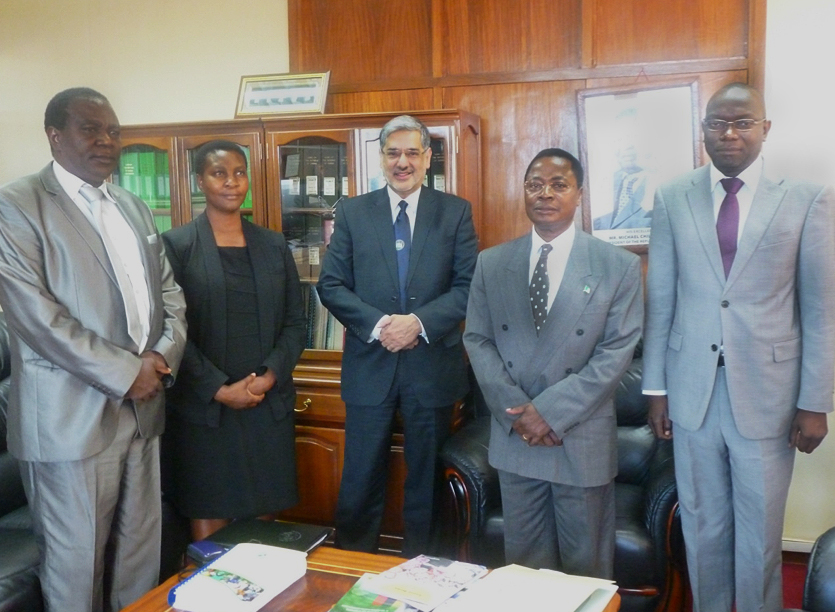 Elastus Chonde has been heavily involved in providing oral health education, including prevention and oral hygiene instruction, in association with local government health institutions. On behalf of Isubilo he will institute programmes and host dental students to give experience and instruction in the field. Enock Haabeka, the Administrator and a Director of Isubilo, will fulfil administrative responsibilities.
Image shows: Dr Nalumino Sayela, Head of the Dental Therapy School, Lusaka, Zambia; Dr D M Chikamata Permanent Secretary, Ministry of Health; Prof Raman Bedi, Chairman, The Global Child Dental Fund, Kings College London; Dr Elizabeth Chizema, Director of Disease Surveillance, Control and Research, Ministry of Health and Dr Itone Muteba, Chief Dental Officer, ministry of Health, Lusaka, Zambia.
The partnership will achieve the following things 
Provide promotive, preventive, and curative dental treatment to children.
Train and build capacity for manpower in provision of oral health care services to children and adolescents both nationally and regionally
Carry out operational documentation and dissemination aimed at establishing the extent of oral disease burden and improving and promoting oral health service delivery to children
Inform oral health policy targeted to children and adolescents.
Provide lectures on Social Responsibility and outreach teaching
Select students, participating and assigning each a project as part of their continuous assessment and final exams
Report information of students selected to participate to Isubilo.
Operational Timeline
0 – 6 months
Recruitment of a project administrator and clinical director to be established in Ndola

Building an administrative and clinical infra structure in Ndola
Meeting of the whole project team in Lusaka to plan the first year
Agreeing the social responsibility curriculum for the undergraduates
Delivering the training and lectures to the students

Identifying the students who will visit Ndola
6-12 months
Students to begin their rotation at Ndola

Collection of activity data and student feedback
Years 2 and 3
Students to rotation at Ndola
Delivering the training and lectures to the students
Collection of activity data and student feedback
Build sustainability models into the project