Kenya Training Workshop
07/08/2014
Kenya Association of Paediatric Dentistry (KAPD) and the Global Child Dental Fund jointly host the 2nd annual training workshop for Kenyan Community Oral Health Workers
Dental caries is one single most important oral disease affecting many children in Kenya, and its prevalence appear to be on the rise. Coupled with this, the Oral health manpower in Kenya is deficient to meet the rising needs of these children. With a practicing dentist / dental therapists population of less than 1,000 for a population of about 40M (60% children below16 year of age), most children are unable access dental services.
There are approximately 500 Community Oral Health Officers  or COHOs (a para-dental group) to provide basic dental care to the population. Their work encompasses giving dental health education, oral hygiene and basic dental treatment in the form of simple extractions and ART restorations. Rotary instruments are not available and caries is removed with hand instruments and restored with either glass ionomers or cements.
On 29 July 2014, the Kenya Association of Paediatric Dentistry (KAPD) and the Global Child Dental Fund co-hosted the 2nd annual national workshop for 35 COHOs drawn from 23 out of 47 Counties in Kenya. The theme of the workshop was: "Creating a carious free environm
ent for Kenyan children". Four Peadiatric Dental Specialists provided the one day training in Nairobi. The trainees received lectures and practical training on provision of oral health education to children and their caregivers, diet counseling, the use of fluoride supplements and pit/fissure sealants in prevention of dental caries. They were also taken through various caries management techniques, including the use of Atraumatic Restorative technique (ART) in the treatment and prevention of caries in children.
The Workshop was officially opened by Prof Raman Bedi, Chairman, Global Child Dental Fund (GCDFund) and was sponsored by Colgate Palmolive.
A photo of some of the COHO participants who took part in the Workshop at a hotel in Nairobi, Kenya.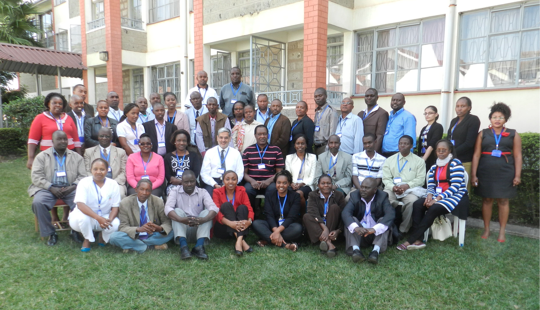 There were other guests who attended and addressed the attendees of the Workshop. They included Dr A Kemoli, Chairman, KAPD, Dr. Wamai, Chairman, Kenya Dental Association, Mr Ng'eno, the Head of COHOs in Kenya and who also represented the Ministry of Health and Dr Carol Onyango, GCDFund, African Network Consultant.
Prof Bedi presents a certificate to one of the COHO trainee (centre) of the Workshop alongside Dr Kemoli, Chairman of KAPD.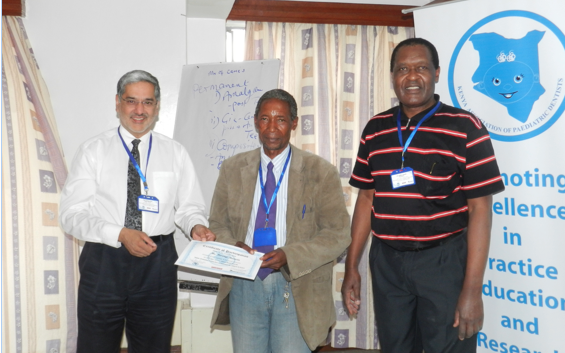 During the Workshop, KAPD Council also paid tribute to the contribution Dr Carol Onyango had provided to KAPD through the GCDFund, African Network Consultant. In recognition for her contribution, the KAPD Council appointed her as Honorary Member of KAPD (see Photo).
On 20 August 2014, KAPD council and invited guests met with Raman Bedi and Carol Onyango to review  the work of overall work of KAPD during the past two years.
After this meeting at Silver Springs Hotel, Prof Bedi and Dr Onyango respectively gave presentations on ECC and Oral pathology in Children, to all fellows of the KAPD.
Dr Onyango receives from Dr Kemoli, KAPD Chairman, a Certificate for Honarary membership to KAPD.