IFDH & GCDFund Social Responsibility Award
23/10/2016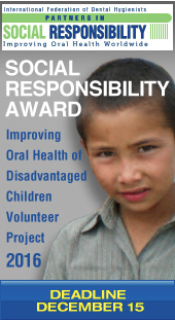 We are still accepting entries for the 2016 Social Responsibility Award for Improving the Oral Health of Disadvantaged Children.
The award is jointly run by the GCDFund and the International Federation of Dental Hygienists. It recognises hygienists and student hygienists who participate in a volunteering project which benefits disadvantaged children, mainly, but not exclusively, in low and middle-income countries.
There will be one outright winner who will receive a cash prize, and two runners-up who will also receive cash prizes. This year's deadine is the 15th of December. Winners will be announced by January 30, 2017.
You can read read more about the award and enter at the following page of the IFDH website: Social Responsibilty Award