12th ANNUAL SDL PROGRAMME
11/03/2018
12th ANNUAL SENIOR DENTAL LEADERS PROGRAMME
LONDON, 4-9 March 2018
First conceptualized in 2007 at King's College London by Professor Raman Bedi, DDS, this year's SDL-12 programme was organised by the Global Child Dental Fund, the Harvard School of Dental Medicine, and this year's host, the King's College London Dental Institute with support from sponsors Henry Schein Cares and Colgate-Palmolive.
SDL-12  delegates, from 13 countries, included dental policymakers, national Chief Dental Officers, representatives from non-governmental organizations, members of the clinical and academic communities, and other stakeholders, all working collaboratively toward a cavity-free world for children.
Speakers included Dr. Bruce Donoff, Dean of the Harvard School of Dental Medicine; Professor Mike Curtis, Executive Dean, King's College London Dental Institute, Dental Clinical Academic Group, King's Health Partners; Dr. Marsha Butler, Vice President of Oral Health and Professional Relations, Colgate-Palmolive; and Dr. Hyewon Lee, Director of Systems and Capacity Strengthening, Global Child Dental Fund.
SDL is designed to produce leaders who can return to their own settings and implement child oral health improvement programmes, that attract resources and benefit from the knowledge and skills of the global dental community. However, the most important activity for them is to increase child oral health literacy among the key decision makers in their country. During the conference, participants gained greater insight into effective team leadership and change management, scenario planning and public health innovation, and the potential impact system change can have in transforming oral health for people in need.
Professor Raman Bedi, Chairman of the Global Child Dental Fund, said: "The 5-day SDL programme is a public private partnership which has stood the test of time and embraces King's College London, the Harvard  School of Dental Medicine, Colgate Palmolive and Henry Schein. This partnership between the private, public and charitable sector has been the chemistry which has made SDL so successful in the past and will continue to be the cornerstone for the next decade."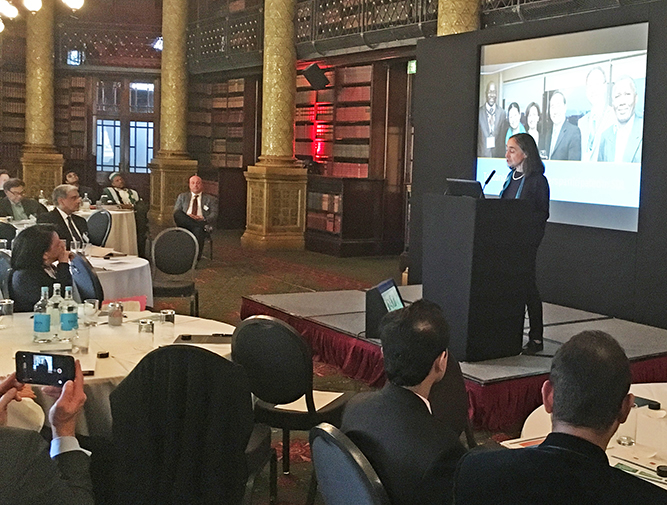 Doctor Marion J. Bergman