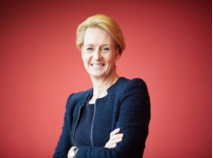 Chief Dental Officer for England BDS (UBrist), MFGDP(UK), MSc (UCL), MA (King's), FDSRCS, psc(j) Honorary Professor Dentistry (University of Manchester) Honorary Doctorate of Health (University of Plymouth)
Sara Hurley
As England's professional lead for oral health and dental care Sara's responsibilities include supporting NHS England, Health Education England and the Department of Health Ministerial team with professional and clinical advice.
Graduating from Bristol University in 1988 Sara was commissioned into the Army.  Having consolidated her clinical skills across a series of postings and operational deployments she embarked on an MSc in Dental Public Health (University College London). 
This was followed by her appointment as principal advisor on oral health matters to Director General of the Army Medical Services.  On completion of an MA in Defence Studies with King's College London she swopped desk for desert, deploying first to Afghanistan as the in-theatre Senior Operational Manager for UK healthcare planning and logistics and then, in 2008, to Iraq.  In 2009 Sara shifted from operational to strategic with a focus on workforce planning and led the development of a personnel strategy to future proof military healthcare capability for 2020 and beyond. 
Her last assignment with the military, was as Commanding Officer of the Royal Centre for Defence Medicine alongside the Queen Elizabeth University Foundation Trust, Birmingham. This role was accompanied by her appointment as Chief Dental Officer for the Army and Queen's Honorary Dental Surgeon, both honours were relinquished on transition to Chief Dental Officer England in 2015.