In collaboration with a group of leading senior dental professionals, we have created a series of Oral Health Booklets designed to help new mothers look after their children's teeth from pregnancy through childhood.
You can download the booklets by clicking the images below.
If you find the booklets helpful, please consider making a donation to the GCDFund - even a small amount can go a long way to helping disadvantaged children all over the world.
Booklets Authors: Dr Dóris Rocha Ruiz, Dr Sônia Groisman, Dr Valerie Wordley and Professor Raman Bedi.
English Language Booklets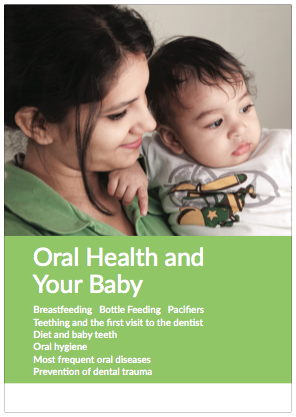 Arabic Versions
1. Oral Health And Your Pregnacy
2. Oral Health And Your Baby
3. Oral Health And Your Child
If you require further information, please contact Dr Easter Joury at easter@gcdfund.org
Chinese Versions
1. Oral Health And Your Pregnancy
2. Oral Health And Your Baby
3. Oral Health And Your Child
Spanish Versions
1. Oral Health And Your Pregnacy
2. Oral Health And Your Baby
3. Oral Health And Your Child
If you require further information, please contact Ariela Edelson at arielitae@gmail.com
Haitian Versions
1. Oral Health And Your Pregnacy
2. Oral Health And Your Baby
3. Oral Health And Your Child
If you require further information, please contact Dr Serge Antoni Riche at sergeantoni88@gmail.com
Khmer (Cambodian) Versions
1. Oral Health And Your Pregnacy
2. Oral Health And Your Baby
3. Oral Health And Your Child
If you require further information, please contact Chher Tepirou at tepirou@yahoo.com
Kurdish Versions
1. Oral Health And Your Pregnacy
2. Oral Health And Your Baby
3. Oral Health And Your Child
If you require further information, please contact Dr Hemn Sarmamy at hemn.sarmamy@yahoo.com
Thai Versions
1. Oral Health And Your Pregnacy
2. Oral Health And Your Baby
3. Oral Health And Your Child
If you require further information, please contact Mod Agrasuta at mod_ag@hotmail.com or Sutha Jienmaneechotchai at suthajien@gmail.com
Turkish Versions
1. Oral Health and Your Pregnancy
2. Oral Health and Your Baby
3. Oral Health and Your Child
if you require further information, please contact Ms Duygu Ilhan at duyguilhan@yahoo.com
Portuguese Versions
1. Oral Health And Your Pregnacy
2. Oral Health And Your Baby
3. Oral Health And Your Child
If you require further information, please contact Dr Sonia Groisman at sonia@dentistas.com.br