Cambodia has undergone many changes since the Vietnam War extended into it and the end of the Khmer Rouge. Dental care was so reduced because of the Khmer Rouge that it has taken many years to rebuild training centres and facilities, which are in short supply.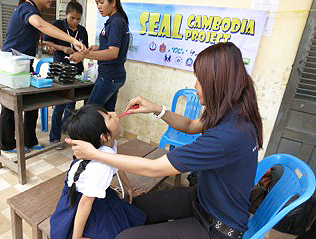 With the help of the two dental universities in Phnom Penh the level of treatment, both preventative and curative, has increased for the majority of Phnom Penh's citizens. However, millions of children are without medical and dental health care because they have been orphaned due to poverty.
SEAL CAMBODIA is an exciting 3-year project to save children's teeth in and around Phnom Penh. The initiative
is a partnership between ten organisations, who, between
them, are aiming to treat 60,000 children over the next three years with dental sealants, otherwise known as fissure protection.
The partner organisations are:
The Cambodian Ministry of Health
Faculty of Odonto-Stomatology, University of Health Sciences, Phnom Penh
Faculty of Dentistry, International University, Phnom Penh
The Cambodian Dental Association
Cambodia World Family (CWF)
One-2-One Cambodia
CAMKIDS
Colgate Palmolive
Global Child Dental Fund
Sealing teeth provides greater protection against dental caries and oral pain, and in the long run the sealant actually helps to strengthen teeth. Studies show a 2/3 reduction in decay in children who have had their teeth sealed.
However, sealing teeth in this way is not only expensive, but it also requires significant planning, supplies and logistics. We are assisted by many volunteers, to whom we are incredibly grateful, but we also need to raise more funds.
If you would like to support SEAL Cambodia please visit our donations page.
Please then email us at info@gcdfund.org with your name and confirmation that you would like your donation to go to SEAL Cambodia.