The Senior Dental Leaders Programme (SDL-9)
SDL-9 was held in Boston, USA, from Sunday 9th to Friday 14th March. This year 16 delegates attended from around the world including our first attendees from Qatar and Thailand. As in past years the Deans of Kings' College London Dental Institute, Diane Rekow, and the Harvard School of Dental Medicine, Bruce Donoff, attended the 5 days of training.
Following the welcome addresses on Monday morning, Tom Kennie discussed in detail the strategic aims, objectives and expected outcomes of the programme. During the numerous sessions held by Professors Raman Bedi, Chester Douglass, Diane Rekow, Tom Kennie and Bruce Donoff, the delegates developed their leadership skills and learnt how to use them to further oral health agendas and improve the dental health of children in their home countries.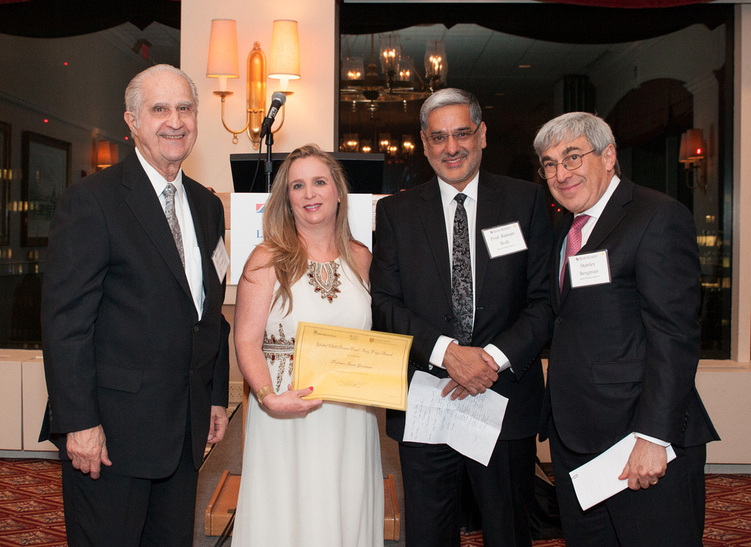 Stanley M. Bergman, Chairman of the Board and CEO of Henry Schein, Inc, hosted the gala dinner and talked about the importance of public-private partnerships in dentistry.
Professor Sonia Groisman from Brazil received the prestigious Tony Volpe Award 2015. (She is pictured opposite with l-r: Tony Volpe, Raman Bedi and Stanley M. Bergman.)
Sonia commented: "SDL-9 was a truly unique experience and I was delighted to be a part of it. The opportunity to meet so many dental leaders from every corner of the world, sharing our common experiences and contextual challenges was an exceptional one. I am greatly appreciative for the Tony Volpe award as it has enabled me to develop my strategic skills and confidence in all areas of leadership and will be essential for my future work in oral health within Brazil."
We are very grateful to delegate Dr Irene Adyatmatka from Indonesia for compiling a thorough review of this year's conference. You can read it here.
---
This Year's Attendees