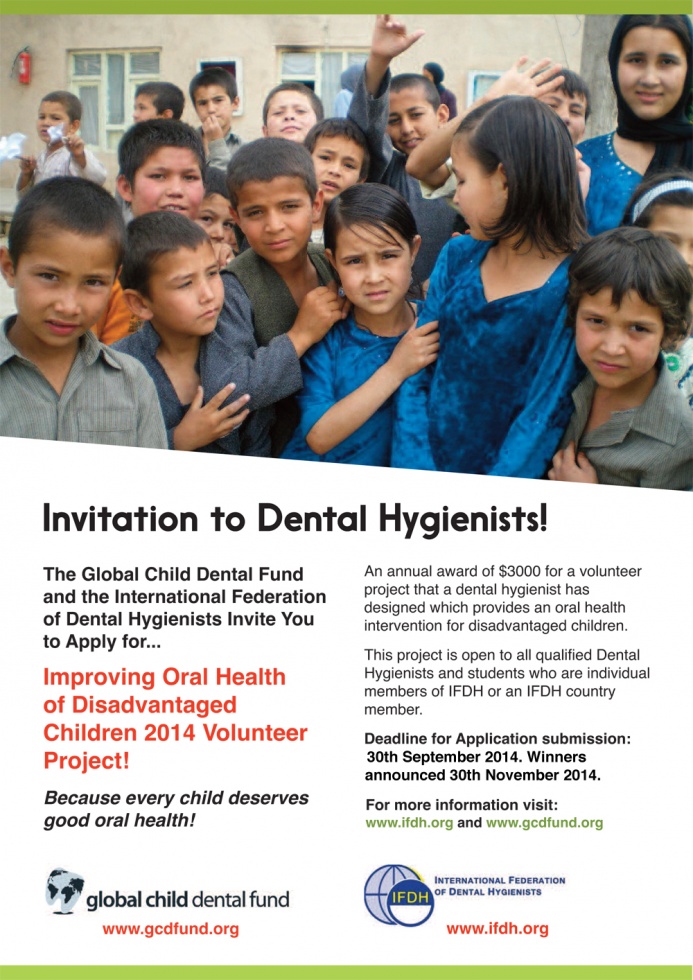 Global Child Dental Fund & IFDH Dental Hygienist - Social Responsibility Award
Improving Oral Health of Disadvantaged Children 2014 Volunteer Project
Background
The IFDH is an international, non-governmental, non-profit organization, free from any political, racial, or religious ties. Together we have launched a project to recognize, on an annual basis, hygienists and student hygienists who participate in a volunteering project which benefits disadvantaged children, mainly but not exclusively in low- and middle-income countries.
Eligibility Criteria
Any Dental Hygienist who is either an Individual or Student member of IFDH, or an IFDH Country Member.
The project must be registered on the GCDFund website.
The GCDFund & IFDH Dental Hygienist Social Responsibility Award will be awarded to support any community volunteering project, in any country, which provides an Oral Health intervention for disadvantaged children.
Assessment criteria
Grant proposals will be reviewed according to the following criteria:
Alignment with GCDF mission and the WFPHA's Declaration on Access to Oral Health for Children (www.gcdfund.org and www.wfpha.org).
Needs assessment: Address the most pressing oral health needs in the community to be served.
Impact: The project should demonstrate improved oral health awareness to the target community.
Community support and previous project experience (if applicable).
Personal reflection by the candidate on lessons learned.
AWARD
We have an award program for the best project uploaded to our Dental Electives e-depository website
The best project, to be judged by three judges:
Hyewon Lee, GCDFund Consultant
Wanda Fedora and Corrie Jongbloed-Zoet, both from the IFDH Executive Council
There will be one winner who will receive a cash prize of $3,000 and $1,000 to the two runner-ups.
The deadline for uploading projects is 30th September, 2014. The winners will be announced on the 30th November 2014.
You can click through to the website to upload your project at this link but please follow the instructions below before doing so.
When you are on the home page, you must register on the site before trying to upload your project. For guidance on how to do this, please visit the section on the right hand of the site entitled 'How To Create a Project'.
LATEST RESOURCES
If you have any queries, you can liaise with Peter Anas at: director@ifdh.org or Noorie Beeharry at noorie@gcdfund.org
Good luck!