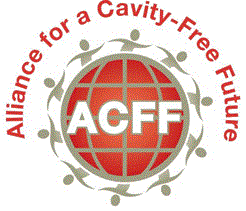 The Alliance for a Cavity-Free Future (ACFF) is a worldwide group of experts who have joined together to promote integrated clinical and public health action in order to stop caries initiation and progression for all age groups.
Working alongside the ACCF Chairman Professor Nigel Pitts, Professor Raman Bedi was instrumental in the launch of the ACFF, acting in the capacity of chairman-elect.
Although the GCDFund is singularly focussed on improving the dental health of the world's most disadvantaged children, naturally there is considerable overlap between the aims of the organisations. In particular, we will support the development of the network of national Alliance 'Chapters'. View the ACFF website
We are partners in the fight against global tooth decay and committed to working synergistically to achieve the common goal that every child born from 2026 should stay cavity free during their lifetime.
"Global collaborative action is needed to encourage country and community leaders, health and dental health professionals, public policy and education communities, and the public, to participate in action toward the delivery of comprehensive caries prevention and management."